Back
Orient Planet PR & Marketing Communications recognized at 7th Arabia CSR Forum

Orient Planet PR and Marketing Communications, has received a special recognition from Arabia CSR Network in appreciation of the agency's active participation to promote 7th Arabia CSR Forum. The forum was held recently in Steigenberger Hotel - Dubai under the patronage of the Arab League and in collaboration with the United Nations Environment Programme (UNEP).

Nidal Abou Zaki, Managing Director, Orient Planet Group said: "Corporate social responsibility is an important major element in business development, which highlights companies' and organizations' contribution to the society and drive social and environmental development, besides restoring social integration locally, regionally and globally. The recognition from Arabia CSR Network confirms once again our commitment to establish the standards in social responsibility and environmental sustainability among the business sector and positively contribute to institutional and social development. We look forward to continue our partnership with Arabia CSR Network in supporting all initiatives which aim to achieve the comprehensive sustainability and encourage best practices in the field."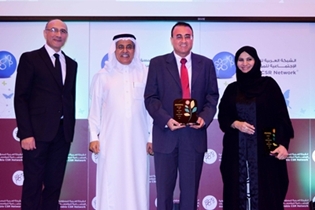 Orient Planet PR and Marketing Communication has joined 20 government entities and private firms who have been honored during the celebration in appreciation for their valuable contributions in implementing the best social responsibility and sustainability programs in the region. The ceremony was held on the sidelines of the 7th Arabia CSR Forum held this year themed, 'Accelerating the Arab Sustainable Development Agenda Through Innovation and Collaboration' with participation from high-level representatives and speakers from the United Nations Economic and Social Commission for Western Asia (ESCWA), Arab League, The Earth Institute in Columbia University, UNEP's regional office for West Asia, and other related organizations.